Winners of Altcoin Fantasy's 2nd Steemit Giveaway
THIS CONTEST IS CLOSED
We have our winners!
1st Place – @girlplaying21 (6 Steem)
2nd Place – @michelsonmichel (4 Steem)
3rd Place – @tranquoccuong (3 Steem)
4th Place – @trangle (1 Steem)
5th Place – @neonneedas (1 Steem)
6th Place – @stalexmkl (1 Steem)
7th Place – @lippycruz (1 Steem)
8th Place – @andynguyen (1 Steem)
9th Place – @znehnawalis (1 Steem)
10th Place – @nguyentrung (1 Steem)
You can watch us pick the winners on the video below:
https://d.tube/#!/v/altcoinfantasy/i1shr3pv
And payouts have been sent.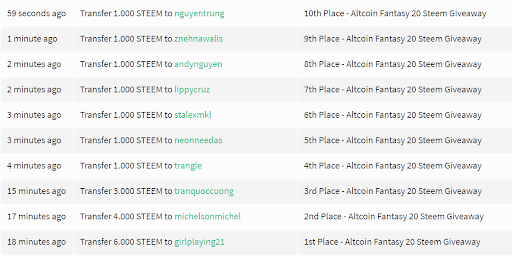 Thank you to everyone who entered the giveaway and see you on the next contest!
---
We are giving away a total of 20 STEEM to 10 random winners!
We have been giving away hundreds of dollars on our game platform Altcoin Fantasy every week so we wanted to extend our generosity here on Steemit as well.
Altcoin Fantasy is a cryptocurrency simulation trading game where
users learn to trade cryptocurrencies risk free. We aim to give you a
platform to practice, hone and test your skills as a cryptocurrency
trader. Each contest has a different criteria for winning, but the
mission of the game never changes. Win by learning about the different coins.

You start with $100,000 USD virtual cash, and you are free to buy any
cryptocurrency and/or ICO coins you wish. At the end of the contest,
the players with the most net worth will win actual crypto — in this case Steem.
Prizes are as follows:
1st: 6 Steem
2nd: 4 Steem
3rd: 3 Steem
4th – 10th: 1 Steem
Rules:
Follow, Upvote and Resteem
Sign up on Altcoin Fantasy and take note of your username.
Leave your ACF username on the comments.
Winners:
Winners will be chosen at random on May 22, 2018 at 6:00PM PST. Once we have the winners, we will update this post and announce it.
This giveaway is being sponsored by Altcoin Fantasy. A fantasy crypto trading simulator that helps you learn how to trade crypto without losing any money. Altcoin Fantasy is absolutely free to play and gives you a chance to win actual crypto or $$ just by choosing the best coins to trade with.
---
Interested in Sponsoring our next contest? Or creating a private contest for your group? Fill-out our contact form and we'll get back to you ASAP.
Curious about us? Meet the team
here.