[Official Press Release] Altcoin Fantasy + Utrum Contest!
Altcoin Fantasy + Utrum Bring an Online Cryptocurrency Trading Competition
June 12, 2018 – Vancouver, BC
---
Vancouver, BC: Altcoin Fantasy — the best free cryptocurrency trading simulation — announces a contest with Utrum, an ecosystem for crowdsourced knowledge for crypto related projects. Altcoin Fantasy is partnering with Utrum to give away $2,000 USD in prizes of Utrum's OOT Tokens for the next free weekly contest. The contest will start June 13 and will end on June 20.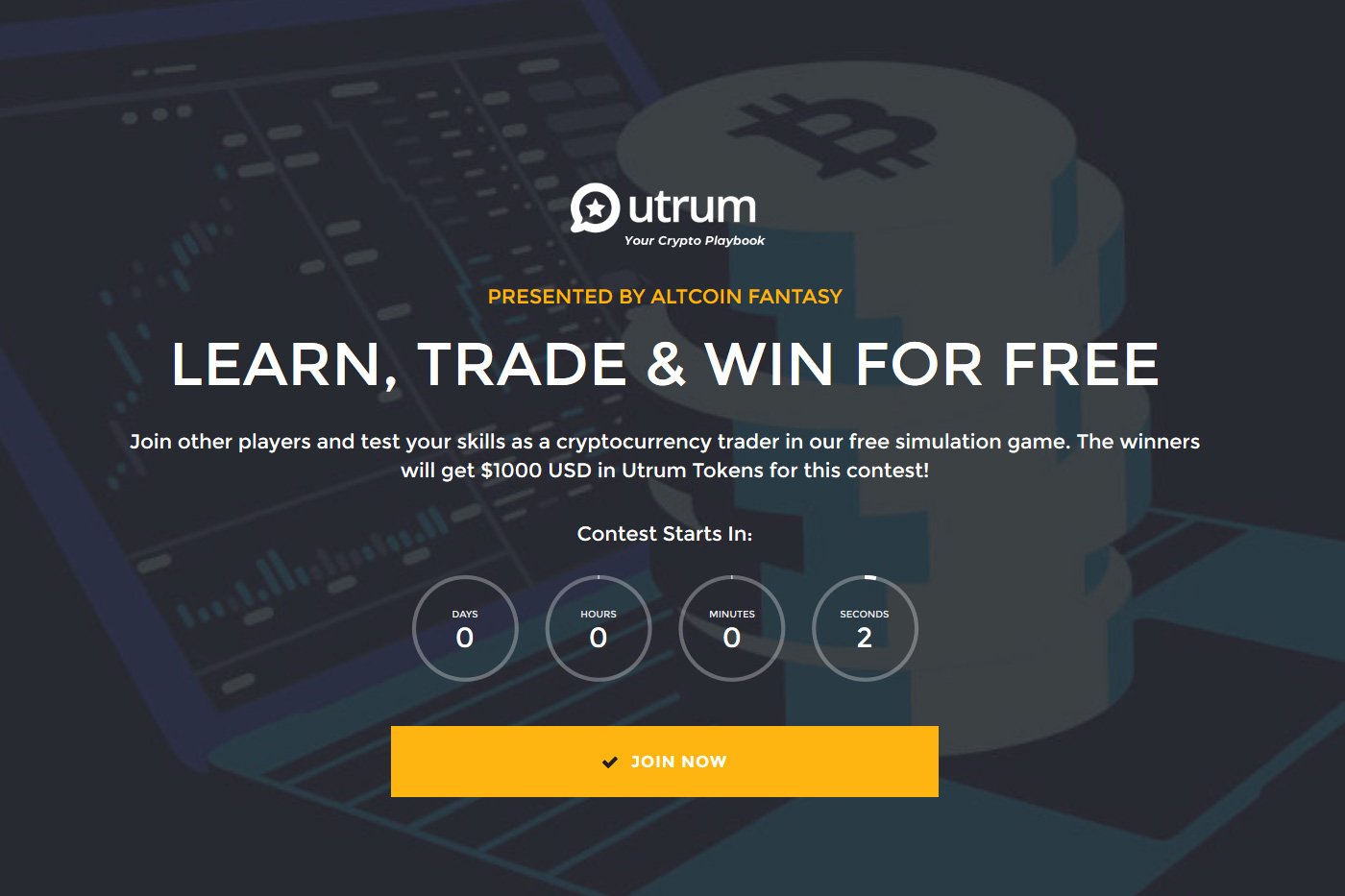 Please Note: This is a Press Release
Altcoin Fantasy is a free, realistic, cryptocurrency trading simulation platform that has helped thousands learn crypto trading, risk-free with regular weekly contests. Users start with a virtual $10,000 USD "demo account" and through various educational features on the platform, learn to trade with different digital currencies. Price charts are available to users on the platform, in additional to news and also a leaderboard where they can see other players' trades throughout the contest period. The game is absolutely free to play and at the end of each weekly contest, the top traders with the most net worth will win various prizes.
"The next industrial revolution will be one that is going to be disrupted by blockchain tech. We want people to be excited about this and one of our goals is to get people to be more knowledgeable about the space. We've seen a lot of scammers trying to take advantage of people and we believe by empowering people with know-how via our crypto trading simulator, we can make a difference in people's lives," says Tommy Chan, CEO of Altcoin Fantasy, a free Altcoin trading sim.
Utrum is a platform that includes a comprehensive database of all crypto related products and services with team, product, news and market details. In addition, Utrum will include reviews and ratings for Cryptocurrencies / Tokens / ICO and related crypto services that are crowdsourced. In exchange for Technical / Market / Educational crypto analysis by experts, influencers in the space will be rewarded with OOT tokens for their efforts. Contributors and members are rewarded for their reviews and ratings with OOT tokens. Analysts can earn tokens for in-depth tech and market analysis. Utrum brings together the best of both traditional business and agile crypto models, forming a platform which operates as "Freemium."
Altcoin Fantasy plans to increase awareness by continuing to partner with brands that will make a difference and be disruptive to their respective industry and have a positive social impact. Their goal is to help the average person understand the cryptocurrency space and avoid losing it all on something that they don't understand.
Altcoin Fantasy is available on the web and on mobile from the Apple App store and the Google Play store.
Utrum tokens leverage the Komodo blockchain and ecosystem — please visit https://utrum.io/ for more information as well as to participate in their token sale.
Altcoin Fantasy Prize structure is as follows:
– 1st Place = $150 worth of OOT
– 2nd Place = $100 worth of OOT
– 3rd Place = $70 worth of OOT
– 4th and 5th = $50 worth of OOT
– 6th to 20th = $20 worth of OOT
– 21st to 40th = $15 worth of OOT
– 41st to 75th = $10 worth of OOT
Biggest Loss = $10 worth of OOT
Most gains = $10 worth of OOT
2nd last place = $10 worth of OOT
Steemit Raffle = 20 Winners ($10 worth of OOT each)
Facebook Raffle = 20 Winners ($10 worth of OOT each)
Twitter Raffle = 20 Winners ($10 worth of OOT each)
Sign up for the free contest now to win $2,000 USD in Utrum tokens for the next contest on Altcoin Fantasy's trading sim
https://altcoinfantasy.com/p/utrum
---
Interested in Sponsoring our next contest? Or creating a private contest for your group? Fill-out our contact form and we'll get back to you ASAP.
Curious about us? Meet the team here.